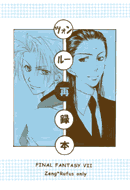 Title: ツォンルー再録本
Circle: Sumomo
Pairing: TsengxRufus
Pages: 194
Condition: New
Summary: This is a complilation of 9 of Sumomo's uncut fanbooks including the much sought after Before Crisis era doujin Photograph.
Notes: This book was won after a mad bidding war as a second chance offer, however my doujinshi craze kind of died off shortly after winning it and it's sat in its original packaging for months now and is in new condition, having been reading through only once or twice -- I'm very careful with my fanbooks so it's practically new. I kind of hate to part with it, but I'd rather it go to someone who's actually going to do more with it.
Price: $50+ (best offer) and shipping. Insurance required.
Payment: Either PayPal or PMO.